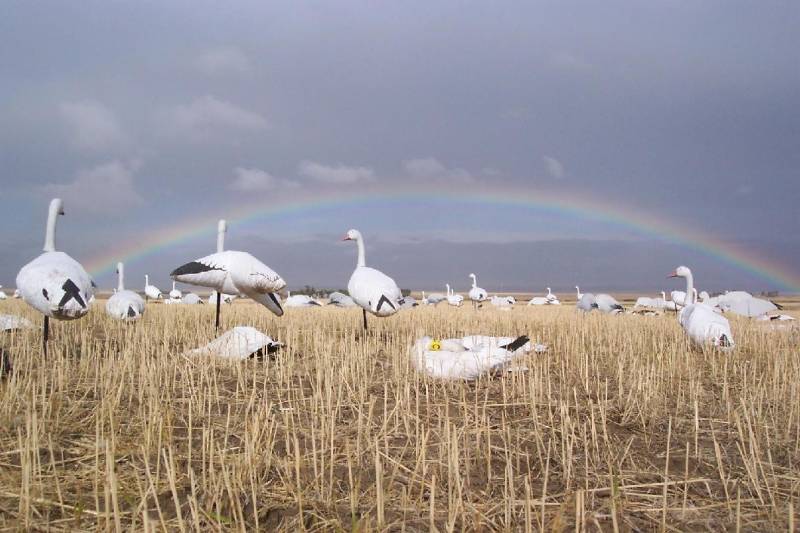 Welcome to the Midwest's Premier Waterfowl Guide Service!
Welcome to Lone Drake Waterfowl Outfitters. We offer exceptional 'in your face' spring snow goose hunts in Northeast Arkansas and South Dakota and we also provide some of the best guided duck hunts in Minnesota. Regardless of where we are hunting, be it ducks or spring snow geese, our mobility allows us to provide you with the best possible opportunity to experience the hunt of a lifetime.
Spring Snow Goose Hunts
Our spring snow goose hunting action starts in Arkansas. After the majority of snow geese have left Arkansas, we also migrate north up to South Dakota. Our guides continue to follow the geese to ensure that we are hunting in the thick of the spring migration all through the South Dakota season. Whether you join us for an opening day of the Arkansas snow goose season or the last day we are hunting snow geese in South Dakota, you can expect to have a great hunt - and a great time.
Duck Hunts
Our duck hunts are typically over enormous decoy spreads in some of Minnesota's premier waterfowl locations. We also seek out and hunt smaller hot spots and capitalize on them. While we will chase all species of ducks found in Minnesota, and the Missippi flyway for that matter, fast paced mallard hunts are our specialty here at Lone Drake Waterfowl Outfitters.
As your waterfowl guide, providing you with a safe and enjoyable duck or goose hunt is our primary goal. All of our duck hunting guides and spring snow goose guides are highly experienced hardcore waterfowl fanatics that know what it takes to put you on birds. Your world class duck or goose hunt is just a phone call away.